I decided to enter the gypsy design contest last night. What was I thinking? For those of you who don't know what it is, here are the details:
| | |
| --- | --- |
| WHAT: | The Gypsy 24-hour Design Challenge is the ultimate creativity proving ground. We'll tell you what cartridges to use and what project categories are involved and you design anywhere using Gypsy. But remember, you only have 24 hours! |
| WHERE: | Challenge details will be announced on the Cricut message board and from provocraft on Twitter. |
| WHEN: | Starts at midnight Oct. 25 and ends midnight Oct. 26. |
| HOW: | Upload project photos and instructions anytime between midnight Oct. 25 and midnight Oct. 26. Using ShareThis, you'll also be able to share your project on Facebook, Twitter, blogs, Email, and many other social applications. |
| THEN WHAT: | Voting begins just after midnight on Oct. 26. Encourage your friends and family to vote for your project but they have to hurry, voting ends Oct. 28 at midnight. The project with the most votes wins! See rules for details. |
| THE WINNER: | The grand prize winner will be announced on Oct. 30 on the Message Boards as well as in person at the grand opening of the new Michaels store in Manhattan. The winner gets a trip for two to New York City! That includes airfare, accommodations for two nights, a pair of tickets to a Broadway show and a $2,000 shopping spree at the newly opened Michaels store in Manhattan. |
| WHAT ELSE: | There will be four others winners. The next three most popular projects will receive an entire library of all 50 cartridges currently be sold at Michaels. No purchase necessary to enter or win. |
I made this card for the contest.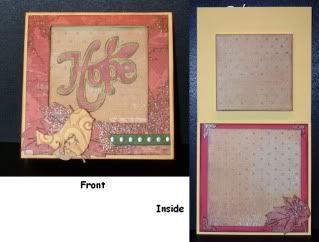 Please take sometime to vote for your favorite project. Here is the link to mine: (hint, hint)
click here to vote for me